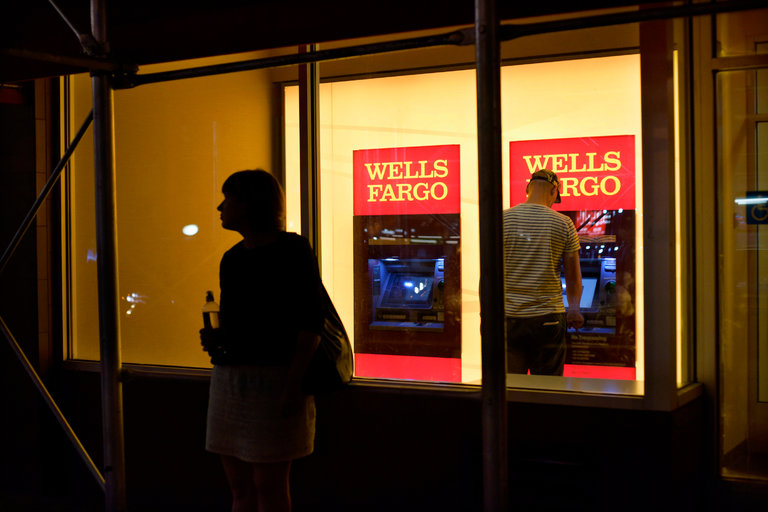 A federal regulator on Monday ordered Wells Fargo to pay $5.4 million to a former manager who said he was fired in 2010 after reporting to his supervisors and to a bank ethics hotline what he suspected was fraudulent behavior.
The bank must also rehire him, the Labor Department's Occupational Safety and Health Administration said.
The $5.4 million, intended to cover back pay, compensatory damages and legal fees, is the largest individual award ever ordered through OSHA's whistle-blower protection program, according to Barbara Goto, the agency's regional administrator in San Francisco.
It is also the first financial penalty against a company that the agency has announced in a news release since President Trump was inaugurated.
Wells Fargo said that the former manager — who was not named by the Labor Department or the bank — had worked in the bank's wealth management group.
According to OSHA, the manager "lost his job after reporting suspected fraudulent behavior to superiors and a bank ethics hotline." He worked in the Los Angeles area and had received good job performance reviews but was "abruptly dismissed" after he reported "separate incidents of suspected bank, mail and wire fraud by two bankers under his supervision," the agency said in a news release.
It is not clear if the suspected fraud that the manager was trying to report was part of the huge scandal that has engulfed the bank since September, when it came to light that thousands of Wells Fargo employees had systematically set up unauthorized bank and credit card accounts on behalf of customers. The firing occurred during the period when the misconduct was known to have taken place.
OSHA, which enforces whistle-blower protection laws, investigated a complaint from the former employee and found that his internal reports of fraud were "at least a contributing factor" in his termination.
Wells Fargo said it would fight the ruling.
"We disagree with the findings and will be requesting a full hearing of the matter," Vince Scanlon, a Wells Fargo spokesman, said in a written statement. "This decision is a preliminary order, and to date there has been no hearing on the merits of this case."
Wells Fargo said it did not yet know if the former employee would return to his previous position.
"We are looking into our options," Mr. Scanlon said.
OSHA said that after the employee was fired in 2010, "he was told he had 90 days to find a new position at Wells Fargo, and when he was unsuccessful, he was terminated." The agency said that the man had been unable to find work in banking since then.
Wells Fargo, which is based in San Francisco, has been in turmoil since admitting that its employees, under pressure to meet aggressive sales goals, opened as many two million fraudulent accounts. The bank fired at least 5,300 employees who were involved and paid $185 million to settle lawsuits brought by two federal regulators and the Los Angeles city attorney.
The bank has drawn heavy criticism for not heeding what appear to have been years of internal warnings about the problem. Numerous former Wells Fargo employees have said that they were penalized or fired after trying to raise the alarm internally through reports to their bosses, the company's ethics hotline, and, in some cases, directly to the bank's former chief executive, John G. Stumpf.
Mr. Stumpf retired under pressure in October. His successor, Timothy J. Sloan, acknowledged in January that the bank may have retaliated against some of its former employees.
Wells Fargo has hired outside investigators to look into retaliation claims, and a few of the cases that they examined "raised questions," Mr. Sloan told employees in a companywide speech.
"We are following up on each of them," he said. "Even though it's a very small number, anything more than zero is too large."
Wells Fargo's board is near the end of its own investigation into the bank's misconduct. The board plans to release a public report this month on its findings.
OSHA has also drawn fire for not moving faster on its investigations into dozens of complaints filed in recent years by current and former Wells Fargo employees. In September, Thomas E. Perez, then the Labor secretary, pledged to conduct a "top-to-bottom review" of all complaints against the bank. Any results from that review have not been made public.
The complaint that resulted in OSHA's action this week was submitted to the agency in 2011. Ms. Goto defended the agency's six-year investigation as an unavoidable consequence of the case's complexity and of the heavy caseloads that OSHA investigators juggle. The investigator handling the case was also working on at least 30 others, she said.
"Although this case did take a long time, we have been working diligently to streamline our investigative process," Ms. Goto said.
That answer did not impress Tom Devine, the legal director of the Government Accountability Project, a nonprofit group that is an advocate for whistle-blowers.
"Unemployed whistle-blowers can't financially afford to wait six years for justice," Mr. Devine said. "With those kinds of delays, it's like getting a heart transplant after the patient has died."