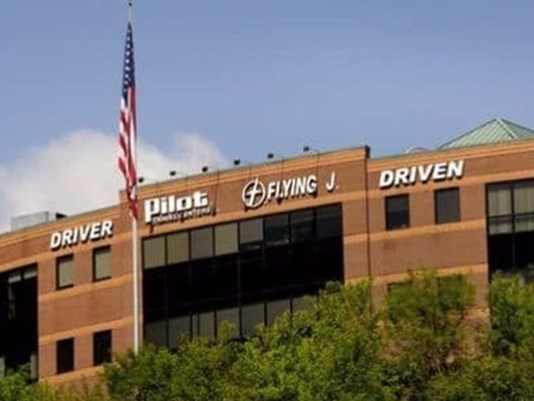 KNOXVILLE, Tenn. — The Pilot Flying J diesel rebate fraud scheme cheated not just trucking companies across the U.S. but the federal government, according to the man who says he helped crack the case.
John Verble, a former broker at Morgan Stanley Smith Barney's Knoxville branch office, says he was fired in 2013 for working with the FBI as an informant in the Pilot case and for alerting authorities to other questionable dealings he says he stumbled upon during his work there. The brokerage denies any wrongdoing.
Courts so far have shot down Verble's quest for federal whistleblower protection. He's now asking the U.S. Supreme Court to hear his case.
Verble's petition to the Supreme Court, filed last month by his attorney Richard Neely, includes the accusation that Pilot Flying J swindled the U.S. Postal Service out of untold sums in promised fuel rebates.
"This (rebate fraud) scheme was revealed to the public in April 2013," Neely wrote, "but what was not revealed is that one of Pilot Flying J's largest customers is the U.S. government, which buys hundreds of thousands of gallons of diesel fuel periodically for use by the Postal Service, and that the U.S. government was defrauded of its rebates in the same fashion as private trucking companies."
The filing marks the first time the company – which admits members of its sales staff scammed trucking customers on diesel rebates for years – has been accused of cheating a government agency. Pilot's attorney says it's a lie.
"That is not a new allegation to me," attorney Aubrey Harwell said. "There are certainly things Mr. Verble has said that we disagree with, and we don't find Mr. Verble's allegations for the most part to be based in fact. We audited all the accounts and sent money to everybody to whom it was owed."
Agents of the FBI and the Internal Revenue Service raided Pilot's corporate headquarters on Lonas Drive in Knoxville on April 15, 2013. Records seized during that raid, together with secret audio recordings by informants, tell a story of customers shortchanged on millions of dollars in rebates and discounts on diesel fuel contracts with the nation's largest truck stop owner as sales executives laughed at clients behind their backs.
Insiders called the scheme "jacking the discount" or "the manual rebate." Court records indicate the plot dated back at least as far as 2008.
Verble claims he helped kick off the probe by acting as one of those informants and that he wore a wire during conversations with Pilot employees, some of them Morgan Stanley Smith Barney clients. The FBI has confirmed Verble worked with agents "to discuss potential investigative matters" but won't give specifics.
Verble says he was fired in June 2013, about two months after the Pilot raid, when co-workers spotted him meeting with FBI agents in a black sedan near his office. Morgan Stanley Smith Barney says he was fired for taking kickbacks.
The Pilot probe has led to guilty pleas from 10 former employees so far, with eight more, including former company President Mark Hazelwood, set for trial on fraud charges in U.S. District Court in October. Pilot's board of directors settled an $87 million class-action lawsuit from trucking customers and admitted legal responsibility for the scam in a $92 million enforcement settlement – which makes no mention of the Postal Service.
"We are unaware of any settlement affecting the Postal Service with regard to Pilot Flying J," said Susan Wright, an agency spokeswoman.
Former Pilot Flying J President Mark Hazelwood, left, after being arraigned Feb. 9, 2016, on charges including conspiracy to commit wire fraud and mail fraud as well as witness tampering. Seven other Pilot employees were named in the indictment.     (Photo: Michael Patrick, Knoxville News Sentinel)
Pilot CEO Jimmy Haslam, the brother of Gov. Bill Haslam and owner of the Cleveland Browns, hasn't been charged but sat through a daylong questioning session under oath in December from attorneys for three trucking companies that turned down the class-action settlement. Haslam has denied any knowledge of the fraud.
FBI recordings made public so far suggest Pilot staffers went out of their way to avoid shorting the Postal Service on rebates – so long as they could keep the various fuel accounts straight.
"How's it going with the Postal Service?" one of the informants asked Arnie Ralenkotter, a regional sales director, in a Dec. 8, 2012, conversation during an overnight retreat at Blackberry Farm.
"I'm killing it," Ralenkotter said. "If they're a postal contract carrier, they should be buying within our network. … Well, now I'm paying them fair. … I'm not going to (expletive) around with them because I'm not going to get thrown in jail."
Ralenkotter later pleaded guilty to conspiracy to commit wire fraud and mail fraud.
Verble claims his cooperation with the FBI cost him a $360,000-per-year job and that the Pilot Flying J revelations gave local authorities and the appellate courts "a strong political reason" to deny him whistleblower protection.
"Experienced judges can detect an unspoken hidden agenda," Neely wrote in the petition to the Supreme Court. "Regretfully, full development of petitioner's case in the district court would inevitably involve development of the facts about Pilot Flying J that petitioner revealed to the FBI."
Neely said he expects to learn in the next few months whether the Supreme Court will agree to hear the case.
Read more